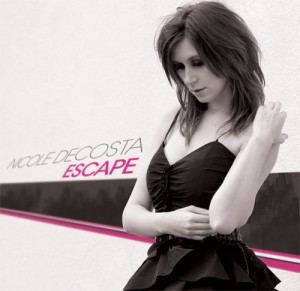 Welcome Nicole DeCosta to the EON Records family with her first CD release on our label and titled "Escape" (EON Records copyright 2010). DeCosta, a singer/songwriter from Portland, OR, shares everything a twenty-something should discuss on an album entering adulthood — relationships, first jobs, lost love and finding happiness in a world changing so fast.
With vocals mirroring Gwen Stefani and Avril Lavigne and with musical instrumentation that proves she's a Pat Benatar and Aerosmith fan, DeCosta has earned herself a nice following in Portland and her journey has features as many high notes as what she's known for.
EON Records owner John Thayer has been following DeCosta's music career for several years — from playing coffee house events in high school, to winning singer/songwriter competitions in college, performing in the Northwest as the lead singer of the pop-rock band Macadam and now as a solo artist.
"'Escape' is an album we had a lot of fun making. Some songs came quickly, like 'What Am I Supposed To Do' that Nicole wrote overnight. Others, like 'Burn Down,' completed themselves more organically. Nicole and I finished the chorus in the recording studio," said Thayer
"Yeah, we had the whole song complete but couldn't find the exact words to crank up the chorus into full gear. We just wanted to 'burn' the whole thing down. Then we realized that phrase was perfect," DeCosta said. "I love when that happens."
The five song EP "Escape" is available now on www.CDBaby.com.