Join EON Recording artist Nicole DeCosta as she checks in with Black 'N Blue on the red carpet at the Oregon Music Hall of Fame induction ceremony Oct. 9, 2010 at the Roseland Theater in Portland, Ore. Produced by Nicole DeCosta Media.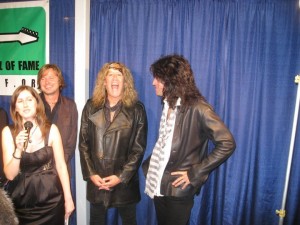 About Black 'N Blue:
In the late 70′s, a glam metal band appeared in Portland called Movie Star. The band included guitarist Tommy Thayer, vocalist Jamie St. James, drummer Pete Holmes, bassist Patrick Young and guitarist Jeff Warner. That band became Black 'N Blue, releasing their 1984 debut album on Geffen with the hit single "Hold On To 18″. The band recorded three more albums for Geffen, with two produced by Gene Simmons of KISS. The band broke up in 1989, reuniting in 1997 recording a live album ONE NIGHT ONLY – LIVE! released on EON Records and again in 2007. The band is currently reunited without Tommy, who replaced Ace Frehley in KISS in 2002.
BLACK 'N BLUE – ONE NIGHT ONLY – LIVE!
Purchase Black 'N Blue's One Night Only – Live! at Amazon.com.
01 Rockin On Heaven's Door
02 Autoblast
03 Hold On To 18
04 Does She Or Doesn't She
05 Heat It Up! Burn It Out!
06 Without Love
07 Miss Mystery
08 Violent Kid
09 I'll Be There For You
10 Wicked Bitch
11 School Of Hard Knocks
12 I'm The King
About the Oregon Music Hall of Fame:
The Oregon Music Hall of Fame (OMHOF) is a non-profit organization created to help preserve Oregon's unique musical heritage. The focus is to recognize and promote the legacy of exceptional Oregon musicians of the past, promote promising new Oregon musicians of today, and to enrich Oregon music education programs in order to train our musicians of tomorrow. For more information, visit www.omhof.org.