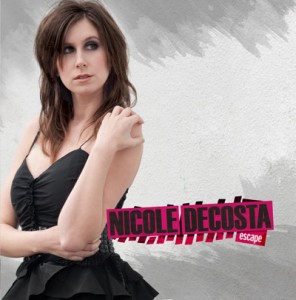 Nicole DeCosta is a Portland, Oregon,  native, and latest recording artist with EON Records. A young woman with words, DeCosta has been writing songs since she was 13, studied writing and the media industry in college and is now sharing her creative endeavors in the public whether in print or when you press play.
DeCosta's latest album is "Escape" (2010 EON Records).
"I'm thrilled to share these fun upbeat pop-rock songs about life and love," DeCosta said. "I love the interaction with the audience wherever I perform. People in dark nightclubs dance because they think no one's watching. And people at festivals always seem to want to be apart of the performance so I usually throw 'em a tambourine."
"Escape," a 5-song EP, provides plenty of opportunities to sway to the beat and hang on high notes. The songs "Escape" and "What Am I Supposed To Do" from the album were featured in three local, independent films.
DeCosta won second place in Oregon State University's 2005 "Best Singer/Songwriter Competition." She also tried out for American Idol in 2006, but apparently the judge were more interested in the 6'8″ girl dressed like Britney Spears.
DeCosta never seems to run out of words. She also hosts and produces a new TV show called Portland Living, airing this fall through Willamette Falls Television and produced through her media company "Nicole DeCosta Media."
Being creative gives DeCosta's life meaning.
"Music gave me confidence growing up," DeCosta said, "and I'm so lucky to be able to share my mind through these songs. 'Escape' is a fun CD. I'm hoping to provide a mini-escape for
people. And who doesn't love a killer guitar solo?"
Portland voice teacher Laura Myers has followed DeCosta for four years and said, "Nicole has a sound all her own and she uses it well. Her voice has hints of Gwen Stefani, but she polishes off her sound with pure DeCosta flavor. Watch out for those fast moving high notes 'cause they are coming your way and you are going to love them!"
Listen to two tracks from Nicole DeCosta's Escape:
What Am I Supposed To Do?
Burn Down