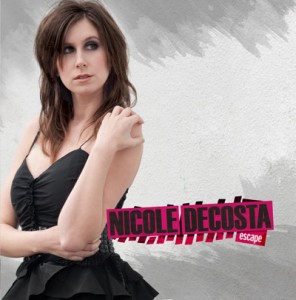 Nicole DeCosta is a Portland, Oregon, native, dubbed "Portland's Personality+." An award winning journalist, musician, TV and radio personality, DeCosta is a young woman with words.
DeCosta has been writing songs since she was 13, studied writing and the media industry in college and is now sharing her creative endeavors in the public whether in print or when you press play.
DeCosta's latest album is "Escape" (2010, EON Records).
"Escape," a 5-song EP, provides plenty of opportunities to sway to the beat and hang on high notes. The songs "Escape" and "What Am I Supposed To Do" from the album were featured in three independent films.
DeCosta won second place in Oregon State University's 2005 "Best Singer/Songwriter Competition." She also tried out for American Idol in 2006, but apparently the judge were more interested in the 6'8″ girl dressed like Britney Spears.
"Music gave me confidence growing up," DeCosta said, "and I'm so lucky to be able to share my mind through these songs. 'Escape' is a fun CD. I'm hoping to provide a mini-escape for
people. And who doesn't love a killer guitar solo?"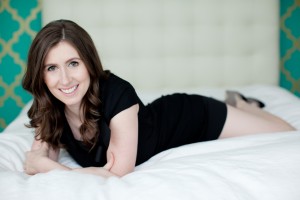 Portland voice teacher Laura Myers has followed DeCosta for four years and said, "Nicole has a sound all her own and she uses it well. Her voice has hints of Gwen Stefani, but she polishes off her sound with pure DeCosta flavor. Watch out for those fast moving high notes 'cause they are coming your way and you are going to love them!"
Learn more about Nicole DeCosta here.
Listen to two tracks from Nicole DeCosta's Escape:
What Am I Supposed To Do?
Burn Down
Buy Nicole DeCosta's Escape at CDBaby.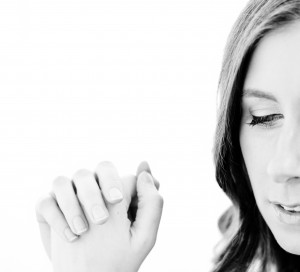 Nicole DeCosta break down her album "Escape" (EON Records) in this interview:
1. So, what are you "supposed to do?" Tell me about track 1 — "What Am I Supposed To Do?"
This song and I go back. I wrote it junior year of high school. Just sat on the floor in my room and wrote it. Meant every word. Got it recorded initially on a cassette tape with a different guitar solo. Label mate and EON Records owner John Thayer and I collaborated on it back then — and now. And, it's funny, but I still love performing this song live. I can mentally go right back to what it was like to have crushes in high school and be so confused and immature, yet so persistent in knowing exactly what I wanted and having no fear. I've learned that you can't really help what you want in life. You have to roll with it. Sometimes it works out. No regrets.
2. What's "Escape" about?
I love how this song starts. Gets right to the point. It's about wanting to run off and try something new in a new city. But, it's kind of conflicted, really. It's like, "hey, I'm leaving to go try something new… but I need you to go with me." It's just a fun, free summer song. Much better listening with the sunroof open. I think Carley Ray Jepsen would like it.
3. "Butterflies" shows a softer side.
Yes, I'm such a girl. This was a fun song to record. Lots of layering and just a fun, playful song. I think it's important to always get butterflies in life. It makes it exciting. No tattooed butterflied, however. We'll leave that to Mariah Carey.
4. 
What had you wanting to burn down the city on track 4′s "Burn Down?"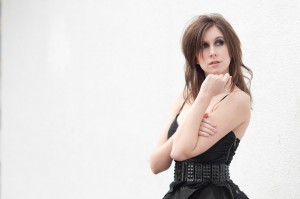 "Burn Down" is almost an ode to being twenty-something and feeling "safe in auto mode" and not pushing myself hard enough in my media career. When we recorded this I was trying to balance being a journalist, TV host and recording an album. It was all so exciting, so exhausting and I felt like I was getting nowhere. And the paychecks weren't as glamorous as the bright lights. don't really know what I was searching for, but I wasn't satisfied. Is this what Ryan Seacrest must feel like every day? Sometimes you just want to burn it all down, right? And sometimes you are your own worst critic. I love being busy and working on so many creative projects. Save the fire! Ironically, I'm afraid of matches. I've never lit someone's birthday cake.
5. "Cry" is a bit bluesy.
Love that guitar riff. There's something very sexy and comforting about it, yet kind of uncomfortable. It works for being so in love with someone and knowing that it's all wrong for the long haul at the same time. I'm a fan of Jonny Lang, John Hiatt, Pat Benatar, Aerosmith, Def Leppard, Avril Lavigne, Christina Aguilera, etc. Honestly, a killer guitar riff and some emotion is so powerful. Just get it out and give it a good hook. Thanks to Joe Mengis, Rob Daiker and John Thayer for working with me on this album. Forever grateful to have this musical snapshot. More to come…