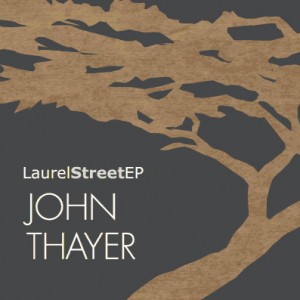 "Laurel Street EP"

Portland, Oregon, singer-songwriter John Thayer releases a new EP titled "Laurel Street EP."
The seven song collection debuts on EON Records in early October, 2013. This Indie Pop record has its roots at the Oregon Coast where the artist has cultivated his musical sensibilities in the artist community of Cannon Beach where Thayer has a summer home.
"Laurel Street EP" marks the producing debut of Bobby Krier, a singer-songwriter musician from Boston, Massachusetts, who also contributed to the songwriting on the record. The record was engineered by Micah Tawlks in Nashville, and mixed by Greg Collins (No Doubt, Matchbox Twenty, U2) in Los Angeles. John's brother, Tommy Thayer, is the lead guitarist for the iconic rock band KISS.
Album credits:
Released Oct. 1, 2013
All songs written by John Thayer and Bobby Krier
Produced by Bobby Krier and Micah Tawlks
Mixed by Greg Collins
Mastered by Evren Goknar
Listen to tracks off Laurel Street EP here.